Stella Zakharova (USSR)
1979 and 1980 World Cup AA Champion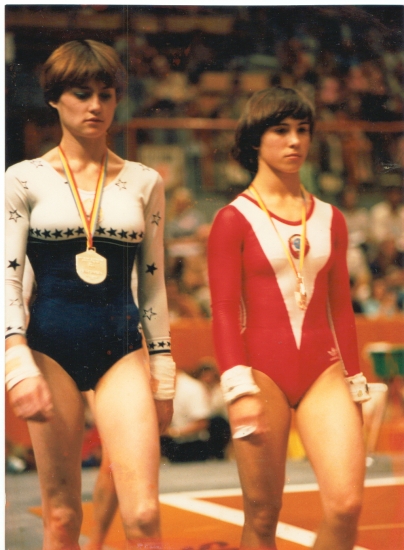 Nadia Comaneci (l) and Zakharova at the 1981 University Games.
Medal Total
Olympic Games: 1 Gold

World Championships: 1 Gold, 3 Silver

World Cup: 3 Gold, 3 Silver, 1 Bronze
---
Stella was born on July 12, 1963 in Odessa. She began gymnastics in 1970. In 1973 her family moved to Kishinev (Moldavian SSR), where Vladimir Kuksa became her coach. She was named to the USSR junior team in 1976, and she and Kuksa transferred to a sports school in Kiev. A powerful gymnast, Stella was the first girl in the world to perform 3 double back somersaults in her FX routine. Stella earned the Merited Master of Sport title following the 1980 Olympics. She retired in 1982 after a poor showing at that year's USSR Championships. After graduating from the Kiev State Institute of Physical Culture and Sport in 1985, worked as a coach for a while, and got married to Dynamo Kiev football player Viktor Khlus. With their son Oleg (born 1983), they moved to Sweden in 1989 and lived there for many years while Khlus played and coached there. The family returned to Ukraine in 1997 and added a daughter, Kristina, to the family in 1999.
---
Competition Results
1976

All-Union School Spartakiade (Candidate for Master of Sport): 1st AA, 1st V, 1st FX, 2nd UB
Junior Friendship Tournament (Druzhba): 1st Team, 2nd AA, 1st V, 1st FX
Jr. USSR Championships (Master of Sport): 2nd AA, 1st V, 2nd FX, 3rd B
Jr. USSR Cup (Master of Sport): 1st AA, 1st V, 1st B, 1st FX

1977

All-Union Youth Sports Games: 2nd AA, 1st B, 2nd V, 2nd FX, 3rd UB
Moscow News: 8th AA, 1st V

USSR Championships: 5th AA

USSR Spartakiade: 2nd AA, 2nd V, 2nd FX

1978

Jr. ROM-USSR Dual Meet: 1st Team, 1st AA

USSR Championships: 7th AA
USSR Cup: 2nd AA, 1st V

1979

American Cup: 1st AA

Moscow News: 1st AA, 1st V, 1st FX, 3rd B

USSR Championships: 10th AA

World Championships (Ft. Worth): 2nd Team, 2nd V

World Cup: 1st AA, 2nd V, 2nd FX, 3rd UB

1980

Moscow News: 1st AA, 1st V, 1st UB

Olympic Games: 1st Team

USSR Championships: 2nd AA, 1st FX, 2nd V, 2nd UB
USSR Cup: 4th AA

World Cup: 1st AA, 1st V, 2nd FX, 5th UB

1981
Schoolchildren's Spartakiade: 2nd Team, 3rd V

University Games: 2nd Team, 1st V, 3rd B, 3rd FX, 4th UB

USSR Championships: 3rd AA, 2nd V

USSR Cup: 3rd AA

World Championships (Moscow): 1st Team, 2nd V

1982
USSR Championships: 40th (prelims)
---
This page was last updated on March 26, 2000 and was last updated on May 22, 2010.
© Gymn Forum