Natalia Yurchenko (USSR)
1982 World Cup AA Champion
1983 World AA Champion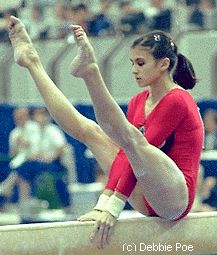 Medal Total
World Championships: 3 Gold

World Cup: 3 Gold, 1 Silver
---
Natalia was born on January 26, 1965 in Norilsk, a city located above the Arctic Circle. A first-grade classmate, Katya Borominskaya, attended a gymnastics class and often spoke about it. One day, Natalia attended a class with Katya. Coach Galina Khasanova invited Natalia to join her group.
In summer 1977, Khasanova took Natalia on vacation to Leselidze. While there, the two met Vladislav Rastorotsky (coach of Ludmila Turischeva). He invited Yurchenko to train with him in Rostov. Khasanova sent Natalia's mother a telegram; Mrs. Yurchenko demanded that her daughter return home immediately. Khasanova wrote Mrs. Yurchenko a letter, and then the two had a long telephone conversation. Mrs. Yurchenko finally relented -- Natalia went to train in Rostov.
Natalia was the first to perform a Korbut loop on beam, the first to do a layout mount on beam, and was the first female to perform the round-off entry vault. She is married to former Soviet soccer star Igor Sklyarov and has a daughter, Olga. Natalia currently lives and coaches in Allentown, PA. Visit her website for photos and news.
---

Competition Results

1978

Jr. Friendship Tournament (Druzhba): 1st Team, 5th AA, 1st UB, 2nd V

Riga International: 3rd FX

1979
RSFSR Championships: 1st AA, 1st V, 1st FX
USSR Championships: 11th AA, 5th B, 8th UB

USSR Cup: 4th AA

USSR Spartakiade: 1st Team, 13th AA, 3rd B

1981

Dynamo Spartakiade: 1st Team, 4th AA, 1st V, 1st FX
Schoolchildren's Spartakiade: 4th Team, 6th AA, 1st FX, 5th B

USSR Championships: 1st AA

USSR Cup: 4th AA, 2nd B

1982

Moscow News: 1st AA, 1st V, 1st UB, 1st B

USGF International Invitational: 4th Team, 4th AA, 5th UB, 5th B, 5th FX

USSR Championships: 1st AA, 1st V, 1st UB, 1st FX, 5th B

USSR Cup: 1st AA, 1st UB

World Cup: 1st AA, 1st V, 1st B, 2nd UB, 4th FX

1983

East Bloc Spartakiade: 1st AA

European Championships: 9th AA, 4th B, 4th FX

Moscow News: 1st AA, 1st B, 2nd V

University Games: 1st Team, 1st AA, 1st V, 1st UB, 1st B
USSR Championships: 1st AA, 1st V, 1st UB, 1st B, 2nd FX

World Championships: 1st Team, 1st AA, 8th V

1984

CSSR Spartakiade (Olomouc): 1st Team, 5th AA, 1st V, 2nd UB
USSR Cup: 4th AA

1985

Australian Games: 2nd AA, 2nd UB, 3rd V, 3rd B, 3rd FX

European Championships: 10th AA
RSFSR Championships: 1st AA

University Games: 1st Team, 1st AA, 1st UB, 1st FX, 2nd V, 7th B
USSR Championships: 3rd AA
USSR Cup: 4th AA

World Championships: 1st Team, 6th AA, 6th V, 6th B

World Cup: 10th AA

1986

Chunichi Cup: 6th AA, 1st FX, 6th UB, 8th V

Tokyo Cup: 1st B, 2nd UB

World Cup: 10th AA

World Sports Fair: 3rd AA, 4th V, 4th UB

1991

World Professional Championships: 4th V, 7th B
---
This page was created on January 25, 1998 and was last updated on August 28, 2007.
© Gymn Forum