Marilena Neacsu (ROM)
1978 World Team Silver Medalist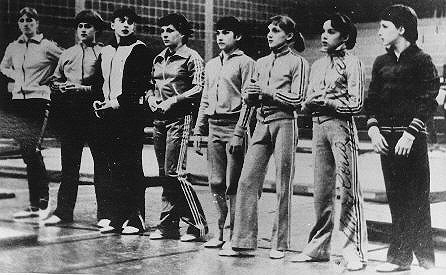 Neacsu (third from left) and her teammates in West Germany, 1978, prior to the World Championships.
Medal Total
World Championships: 1 Silver
---
Marilena was born on August 14, 1961 in Sibiu and was discovered by coaches Cristl Voiciulescu and Nicolae Buzuoianu at the age of 10. She appeared in the 1990 Romanian/French film "Reach for the Sky" and works as a coach in Canada.
---
Competition Results
1975
International Championships of Romania: 5th AA
Jr. ROM-USSR Dual Meet: 2nd Team, 2nd AA
ROM-HUN-RSFSR: 6th AA

1976
ROM-PRK Dual Meet: 1st Team, 5th AA
USA-ROM Dual Meet: 1st Team, 12th AA

1977
Balkan Championships: 3rd AA
Chunichi Cup: 6th AA
ESP-ROM Dual Meet: 1st Team, 3rd AA
European Championships: 10th AA
International Championships of Romania: 4th AA
Orleans International: 4th AA
ROM Championships: 2nd AA
USA-ROM Dual Meet: 1st Team, 5th AA

1978
Champions All: 2nd AA
FRG-ROM Dual Meet: 1st Team, 2nd AA
ITA-ROM Dual Meet: 1st Team, 2nd AA
ROM Championships: 6th AA
World Championships: 2nd Team, 14th AA

1979
International Championships of Romania: 11th AA

1980
Hungarian International: 8th AA
International Championships of Romania: 9th AA
---
This page was created on December 24, 2004 and was last updated on February 10, 2006.
© Gym Forum