Maxi Gnauck (GDR)
1980 Olympic AA Silver Medalist
3-Time World UB Champion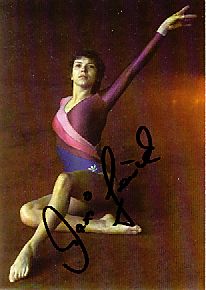 Medal Total
Olympic Games: 1 Gold, 1 Silver, 2 Bronze

World Championships: 5 Gold, 1 Silver, 3 Bronze

World Cup: 3 Gold, 1 Silver, 1 Bronze

European Championships: 5 Gold, 3 Silver, 1 Bronze
---
Maxi was born on October 10, 1964 in Berlin. Her parents were expecting a boy (they planned to name him Max), so when the baby turned out to be a girl, an "i" was added to the name. Maxi's mother brought her to a gymnastics center in their neighborhood when Maxi was 5. By age 8, Maxi had won her first medals at the Kreisspartakiade, and at age 9 she transferred to SC Dynamo Berlin where she was coached by Jurgen Heritz. Considered one of the best UB workers of her time, Maxi was also a super tumbler. She was one of the first girls to perform a triple twist on FX.
Maxi officially announced her retirement in April 1986 and began studying to become a coach. In 1988, while working as an aide at a children's summer camp by the Baltic Sea, Maxi was severely injured while sliding down a water slide. She broke her C5 vertebra and was nearly paralyzed. Three vertebrae were later reinforced with a metal plate.
Since 1993 Maxi has worked as a full-time coach at the Norderstedt Gymnastics Center in Hamburg. She was inducted into the International Gymnastics Hall of Fame in 2000, the first German gymnast to be awarded that honor.
---

Competition Results

1977

GDR Children's Spartakiade: 1st AA

GDR Junior Championships: 5th AA

Jr. GDR-TCH Dual Meet: 1st Team, 1st AA
Jr. Friendship Tournament (Druzhba): 19th AA

1978

Chunichi Cup: 4th AA

Cottbus International: 3rd AA, 2nd V
DTV Cup: 5th AA

GDR-HUN Dual Meet: 1st Team, 3rd AA

Jr. Friendship Tournament (Druzhba): 2nd Team, 3rd AA, 2nd FX, 4th UB, 6th V

1979

Cottbus International: 1st AA

European Championships: 6th AA, 2nd V, 3rd UB

GDR Championships: 2nd AA

GDR Cup: 4th AA

GDR-NOR-SWE Tri-Meet: 1st Team, 1st AA

World Championships (Fort Worth): 3rd Team, 2nd AA, 1st UB, 4th FX, 6th V, 6th UB

1980

Cottbus International: 1st AA, 1st UB, 1st B, 1st FX

GDR Championships: 4th AA

GDR-HUN Dual Meet: 1st Team, 1st AA

Olympic Games: 3rd Team, 2nd AA, 1st UB, 3rd FX, 4th B, 6th V

World Cup: 2nd AA, 1st UB, 1st FX, 6th V

1981

Cottbus International: 1st AA, 1st UB, 1st FX, 2nd V, 2nd B

European Championships: 1st AA, 1st UB, 1st B, 1st FX, 2nd V

GDR Championships: 1st AA

GDR-NOR-SWE Tri-Meet: 1st AA

World Championships (Moscow): 3rd Team, 77th AA (prelims), 1st V, 1st UB, 1st B

1982

GDR Championships: 1st AA, 1st V, 1st UB, 1st FX
GDR-HUN Dual Meet: 1st Team, 1st AA

World Cup: 5th AA, 1st UB, 3rd FX, 7th V

1983

Chunichi Cup: 4th AA, 1st FX

Cottbus International: 1st V, 1st FX, 3rd AA
Tokyo Cup: 1st UB, 1st FX

World Championships (Budapest): 3rd Team, 7th AA, 1st UB, 4th V, 4th B

1984

Cottbus International: 4th AA, 1st V, 1st FX

CSSR Spartakiade (Olomouc): 3rd AA, 1st UB, 1st FX, 3rd V, 5th B

DTB Cup: 1st AA, 1st UB, 1st FX, 2nd V, 5th B

GDR Championships: 1st AA, 1st UB, 1st FX, 3rd V

1985

Cottbus International: 2nd AA, 1st FX, 2nd V

European Championships: 2nd AA, 1st UB, 4th V
---
This page was created on November 10, 1997 and was last updated on August 23, 2013.
© Gymn Forum