Nadia Comaneci (ROM)
1976 Olympic AA Champion
1975-1977-1979 European AA Champion
1978 World B Champion
1980 Olympic B and FX Champion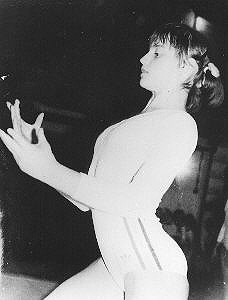 Medal Total
Olympic Games: 5 Gold, 3 Silver, 1 Bronze

World Championships: 2 Gold, 2 Silver

World Cup: 2 Gold, 1 Silver

European Championships: 9 Gold, 2 Silver, 1 Bronze
---
Nadia was born on November 12, 1961 in Onesti. Coaches Bela and Marta Karolyi coached her to Olympic gold and world fame. Comaneci is the only woman to win the European AA title three times. She was also the first female gymnast to receive a score of 10.00 in an Olympics, and is the youngest Olympic AA champion. Her last competition was the 1981 University Games, where she won 5 gold medals.
After retiring, she coached the Romanian junior national team for a while. Since she was not allowed to leave the country, Comaneci decided to defect in 1989. She came to the US and eventually hooked up with Bart Conner (she and Conner were the winners of the very first American Cup competition in 1976). They married in an elaborate wedding in Bucharest in 1996.

Today, Nadia and Bart own a gymnastics club in Norman, OK, are editors of International Gymnast magazine, and are involved in numerous charitable organizations. The couple are expecting their first child in July 2006.
---

Competition Results

1971

Championships of the Republic, Category III: 1st Team, 4th AA

Cup of the Romanian Gymnastics Federation (Category IV): 1st AA, 1st V, 1st UB, 1st B, 1st FX

Jr. ROM-YUG Dual Meet: 1st Team, 1st AA

1972

Championships of the Republic, Category III: 1st Team, 2nd AA

Championships of the Republic for Juniors: 1st Team, 1st AA

Cup of the ROM Gymnastics Federation (Category II): 1st Team

Jr. BUL-ROM Dual Meet: 1st Team, 1st UB, 1st FX, 2nd AA
Jr. Friendship Tournament (Druzhba): 4th Team, 1st UB, 1st B, 6th V

Jr. ROM-RSFSR Dual Meet: 1st AA

Jr. ROM-HUN Dual Meet: 1st AA

1973

International Championships of Romania: 1st AA, 1st V, 1st UB, 1st B, 1st FX
Jr. Friendship Tournament (Druzhba): 3rd Team, 1st AA, 1st V, 1st UB, 3rd FX

Jr. ITA-ROM Dual Meet: 1st Team, 1st AA

Romanian Sr. Team Championships: 1st Team, 1st AA

Romanian Schools Championships (Senior Category): 3rd AA

1974

Jr. ROM-POL-Denver (USA) Tri-Meet: 1st Team, 1st AA

1975

Champions All: 1st AA

European Championships: 1st AA, 1st V, 1st UB, 1st B, 2nd FX

Pre-Olympics: 1st AA, 1st UB, 2nd V, 2nd FX, 3rd B

Romanian Championships: 1st Team, 1st AA, 1st V, 1st UB, 1st B, 2nd FX

1976

American Cup: 1st AA

Balkan Championships: 1st Team, 1st AA, 1st V, 1st UB, 1st B, 1st FX

CAN-ROM Dual Meet: 1st Team, 1st AA

Chunichi Cup: 1st AA

FRG-ROM Dual Meet: 1st Team, 1st AA

GBR-ROM Dual Meet: 1st Team, 1st AA

HOL-ROM Dual Meet: 1st Team, 1st AA

Olympic Games: 2nd Team, 1st AA, 1st UB, 1st B, 3rd FX, 4th V

Romanian Championships: 1st AA

USA-ROM Dual Meet: 1st Team, 1st AA

1977

Balkan Championships: 1st Team, 1st AA
ESP-ROM Dual Meet: 1st Team, 1st AA

European Championships: 1st AA, 1st UB, 2nd V

FRA-ROM Dual Meet: 1st Team, 1st AA

International Championships of Romania: 1st AA, 1st UB, 1st B, 1st FX

Orleans International: 1st AA

ROM-CAN Dual Meet: 1st Team, 1st AA
USA-ROM Dual Meet: 1st Team, 1st AA

1978

ITA-ROM Dual Meet: 1st Team, 1st AA

World Championships (Strasbourg): 2nd Team, 1st B, 2nd V, 5th UB, 8th FX

1979

Balkan Championships: 1st Team, 1st AA, 1st V, 1st UB, 2nd FX

Champions All: 1st AA

European Championships: 1st AA, 1st V, 1st FX, 3rd B, 4th UB

International Championships of Romania: 1st AA, 1st UB

World Championships (Ft. Worth): 1st Team

World Cup: 4th AA, 1st V, 1st FX, 2nd B

1980

International Championships of Romania: 1st AA, 1st UB

ITA-ROM Dual Meet: 1st Team, 1st AA

Olympic Games: 2nd Team, 2nd AA, 1st B, 1st FX, 5th V

1981

University Games: 1st Team, 1st AA, 1st V, 1st UB, 1st B
---
This page was created on November 1, 1997 and was last updated on June 2, 2013.
© Gymn Forum