Svetlana Boginskaya (USSR/BLR)
1989 World AA Champion
1989 & 1990 European AA Champion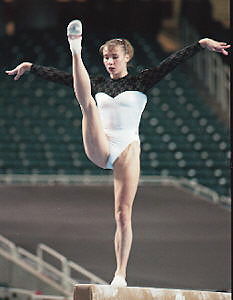 Medal Total
Olympic Games: 3 Gold, 1 Silver, 1 Bronze

World Championships: 5 Gold, 3 Silver, 1 Bronze

World Cup: 1 Gold, 1 Silver, 1 Bronze

European Championships: 9 Gold, 1 Silver
---
Svetlana was born on February 9, 1973 in Minsk. Her coach was Lyubov Miromanova, who used to coach Ludmila Savina (2nd at the 1975 Champions All). Boginskaya had a long and illustrious career, starting with a win at the 1986 Jr. European Championships, later becoming European and World AA champion, and winning medals at the 1988 and 1992 Olympics.

After the 1992 Olympics, she retired and took part in exhibitions and clinics. But Boginskaya decided to return to competition and moved to Houston, TX to train under Bela Karolyi. She was 16th AA at the 1995 World Championships and a remarkable 2nd AA at the 1996 European Championships! She and teammate Elena Piskun led their Belarus team to a 6th place finish at the 1996 Olympics.

Svetlana currently lives in Houston, and is married to William Yee. They have a daughter, Ania Julietta, who was born July 1999, and a son, Brandon, who was born November 10, 2003. Today, Svetlana loves being a mother. She also owns a sportswear company and coaches (at gymnastics camps in the summer and privately throughout the year).
---
Competition Results
1983
Jr. GDR-USSR Dual Meet: 2nd Team, 9th AA, 2nd B, 3rd FX

1984

Jr. Friendship Tournament (Druzhba): 1st Team, 4th AA, 1st B
1985

Hungarian International Champs: 1st AA, 1st B, 2nd UB, 3rd FX

International Junior Champs: 1st AA, 1st V, 1st UB, 1st FX, 3rd B
Jr. Friendship Tournament (Druzhba): 1st Team, 11th AA

USSR-GDR (Jr.) Dual Meet: 1st Team, 2nd AA
1986

Jr. European Championships: 1st AA, 1st B, 2nd V, 2nd UB
Jr. Friendship Tournament (Druzhba): 1st Team, 1st AA, 1st UB, 2nd V, 2nd B
Riga International: 3rd AA, 1st V, 1st B, 4th UB
1987

Jr. Friendship Tournament (Druzhba): 2nd Team, 2nd AA, 1st V, 1st UB, 1st B, 1st FX

Riga International: 1st AA

USA-USSR Dual Meet: 2nd AA

USSR Cup: 6th AA, 3rd V, 4th UB, 6th FX

World Championships: 2nd Team, 3rd B
1988

Chunichi Cup: 2nd AA, 1st FX, 2nd V, 3rd UB, 3rd B

DTB Cup: 2nd AA, 1st V, 1st UB, 2nd FX, 4th B

Moscow News International: 2nd AA, 2nd UB, 2nd B

Olympic Games: 1st Team, 3rd AA, 1st V, 2nd FX

USA-USSR Dual Meet: 1st Team, 1st AA
USSR Championships: 5th AA

USSR Cup: 2nd AA, 2nd UB, 3rd V, 4th B
1989

European Championships: 1st AA, 1st V, 1st FX, 4th UB, 4th B

Moscow News International: 1st AA, 1st B, 1st FX, 2nd UB, 3rd V
USSR Championships: 9th AA

World Championships: 1st Team, 1st AA, 1st FX, 8th UB

World Sports Fair: 1st Team, 1st AA, 1st V, 1st B
1990

Blume Memorial: 1st AA

Chunichi Cup: 1st AA, 1st V, 1st B, 1st FX

DTB Cup: 8th AA, 2nd V, 3rd UB, 4th B

European Championships: 1st AA, 1st V, 1st UB, 1st B, 1st FX

French International: 1st AA, 1st V

Goodwill Games: 1st Team, 2nd AA, 1st FX, 3rd B

Tokyo Cup: 1st V, 1st FX

World Cup: 2nd AA, 1st FX, 3rd V, 4th UB, 4th B
1991

Blume Memorial: 1st AA, 1st V

USSR Championships: 5th AA

World Championships: 1st Team, 2nd AA, 1st B, 5th V, 7th FX
1992

CIS Championships: 8th AA, 4th B

DTB Cup: 1st AA, 1st UB, 2nd B, 4th FX

European Championships: 5th AA, 1st B, 4th UB, 8th V

Gander Memorial: 1st AA

Olympic Games: 1st Team, 5th AA, 4th V, 5th B

Swiss Cup: 1st Team

World Championships: 2nd V, 6th B
1995

USA-BLR-CHN Tri-Meet: 2nd Team, 4th AA

Pre-Olympics: 18th AA (2 events only)

World Championships: 8th Team, 16th AA
1996

American Cup: 1st V, 1st UB, 1st B, 2nd AA

European Championships: 4th team, 2nd AA, 4th B, 6th V, 6th UB, 6th FX

Three-on-Three International Championships: 1st Team

ITA-BLR-ROM-RUS Meet: 3rd AA

Olympic Games: 6th Team, 14th AA, 5th V
---